We custom the best Motorcycle battery basing specific requirement
Motorcycle No.1
Motor size: 1200W
Voltage: 72V
Weight: 150kg
Max Gross: 290kg
Use: Our initial market focus for this motorcycle is for deliveries (i.e. McDonald's, Pizza Hut, KFC, etc) and use by Postal Service and Police. As such, it would be used fairly constantly with short duration rest periods.
In this application, the gross weight of the motorcycle would normally be around 150kg + 80KG = 230kg (80kg being driver and goods).
Batteries: I need the selected batteries to provide the greatest range possible (in terms of time and distance) within the limitations of the existing Battery Compartment size.
As the Battery Compartment size is limited, I was assuming that it would be better to use Li ion batteries in this application as they offer slightly higher density / capacity. I also assumed that 30 – 35Ah was the largest capacity battery that would fit within the existing compartments ,There are two separate Battery Compartments, as shown in the attached photo. I had intended installing one battery as Standard, with users having the option of adding an additional battery to increase range. My intention is to install a Selector Switch between the batteries to enable the user to switch to the second battery when the first battery has been run down to minimum level.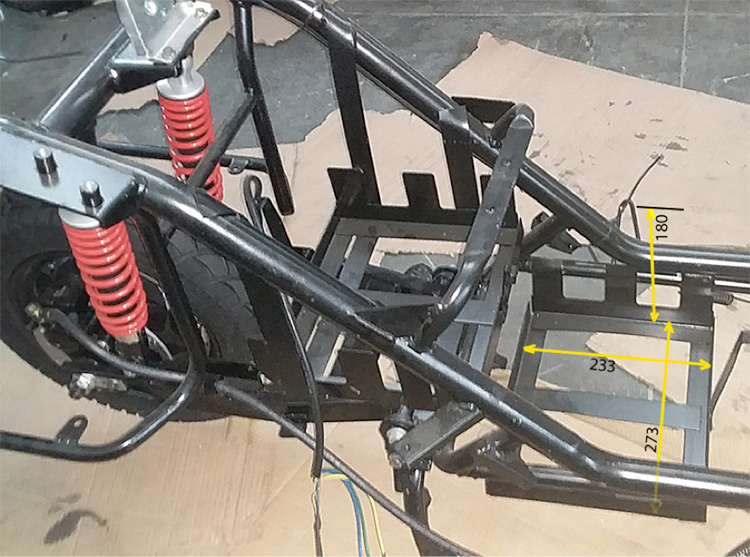 Two existing Battery Compartments within the Motorcycle frame
Motorcycle No.2
Motor size: 2500W
Voltage: 72V
Weight: 220kg
Max Gross: 440kg
Use: Our initial market focus for this motorcycle is for domestic deliveries (i.e. Bottled LPG Gas, Groceries, etc), small commercial delivery service and use around large factories, work sites. In this application, the Motorcycle would require the battery capacity to continually operate, with short intermittent breaks during the day, with an overnight period for recharging.
In this application, the motorcycle may regular be operated at its maximum gross weight.
Batteries: The existing Battery Compartment size on the Motorcycles is quite large (see attached photo). I assume the best battery choice in this application would be LiFePO4 as it offers a longer life span and greater safety.
As you can see in the photo, the Battery Compartment is divided into two identical size areas. I understand each area is large enough to easily accommodate an 80 - 100Ah battery.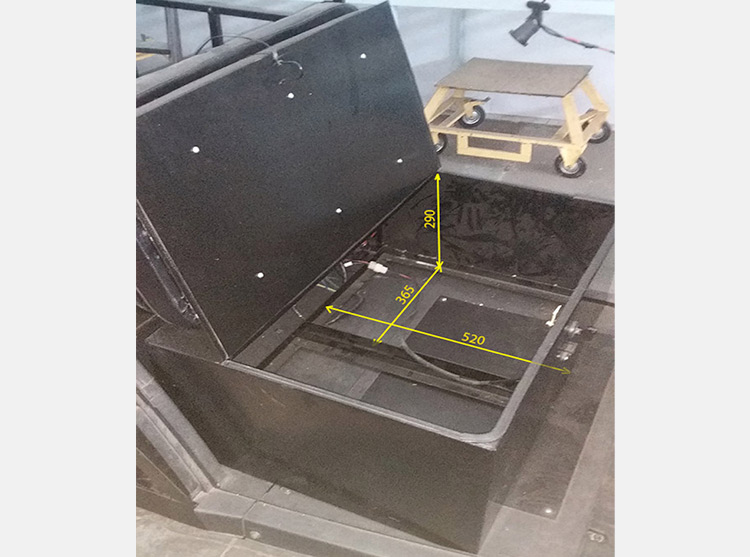 The existing battery Compartment on Motorcycle No.2 is divided into two areas of equal size as can be seen in this photo.
Please note that the battery dimensions can not be equal to the maximum internal Compartment dimensions in ALL directions, as I need to have space to run cables either over the top or between the two batteries.
The roof areas on both of these Motorcycles will be extended considerable on our production models.